Erica Finds Blog takes the Million Mile Month Challenge and asks her readers to join her.
"April is here and I have two challenges to tell you about that could help you to feel better and to be a part of something bigger. Bigger and better? Yes, Please!"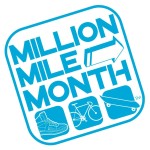 Million Mile Month is a challenge to accomplish one million miles of physical activity, as a community. It takes place every April. You can also participate in MMM community activities throughout the year. Participants can do any event or workout and log their miles in an easy online tracker. The goal is to get more than a million miles logged in April across all participants and groups. It also encourages youth to be more active which is so important!
How does it work? It is just 3 easy steps:
Register (you can register at $15, $25, $50 or pay what you can >$1). All levels include participation in the M3 April challenge, exclusive discounts, entry to Milestone Prize giveaways and M3 Community membership for one year.
Complete miles throughout April (run, walk, bike, yoga…whatever you like).
Log your miles to help the entire MMM community reach one million miles in April. You can connect to Fitbit or Garmin or manually enter your miles.
Register and log your miles and you can:
Win awesome prizes (bikes, gift cards, fitness trackers and more) just for logging miles.
Get recognized for your hard work on the MMM Leaderboards.
Stay Connected year-round to become a Fitness Millionaire™.
Reduce your risk of heart disease and increase your overall health and wellness.
Be a part of a virtual fitness community.
Million Mile Month has a two major benefits. First, it helps to improve the health and wellness of participants and participating communities. In addition, Million Mile Month benefits the 501c3 nonprofit Cyberways and Waterways (CW). CW focuses on eliminating heart disease, improving the wellness of all individuals and educating children about personal health and the health of the world around them. Good stuff!
I signed up – who's with me?"